The NSW Premier is giving NSW families $150 in vouchers to help with School expenses this year.
Families can apply for $150 in vouchers for children who attend a primary, secondary school or even if they are being home-schooled in NSW in 2023.
Applications are currently open. Each voucher is valid until 30/06/23.
Vouchers are accepted at registered businesses and can go towards school uniforms, shoes, bags, books and other eligible expenses.
When you make a purchase, you can use as many of your vouchers as you need in one transaction.
When you apply (takes about 2 minutes), approval is pretty fast and the vouchers will be emailed to you (usually on the same day).
Find out more about how to apply for Premier's Back to School NSW Vouchers.
Click here to learn more about the Premier's Back to School NSW Vouchers.
Here are some of our faviroute registered businesses where you can spend your vouchers:
They also currently have 20% off school shoes and black sports shoes. They also stock most of the great school shoe brands like Clarks and Asics.
Another great options for school shoes, as well as bags, lunchboxes, stationary and other school items is Myer, who is also accepting the vouchers and stocks some great brands for back to school items. They also have a stocktake sale which includes 20% off kids school shoes at the moment.
A well known and great uniform option that is also a part of the registered businesses is LOWES.
We also want to take the chance to highlight that we love Lowes ethical approach to sustainability and social responsibility!
The staple stationary brand stable Officeworks is also a registered business. They also have a parent's price promise and a great back to school catalogue.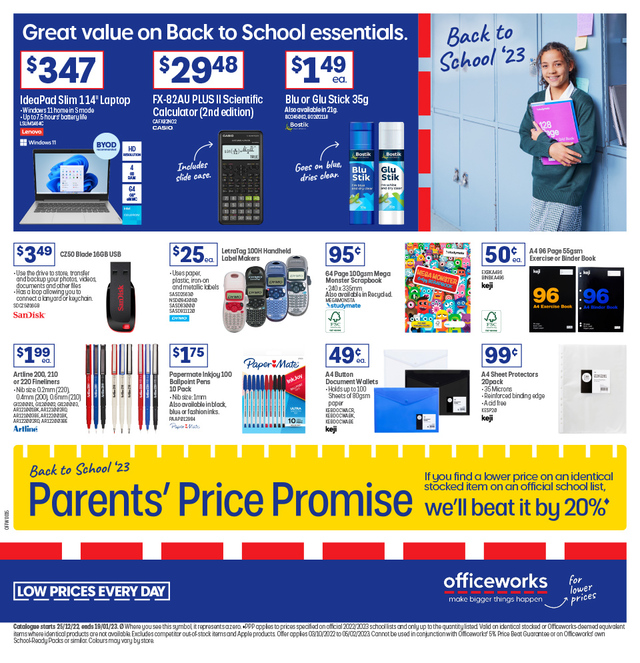 If you haven't seen their Personalised School supply options, we highly recommend it!
There are heaps more registered businesses that you can shop at and even a search finder for shops local to you.
Don't forget that most participating places will allow you to shop online and in store.
Check out our Creative Kids and Active Kids blog posts for great ways to use those vouchers as well.